Instagram has quickly become one of the most popular social media outlets amongst business owners. A large following could lead to massive exposure and sales. But to start, how does one even get a large following??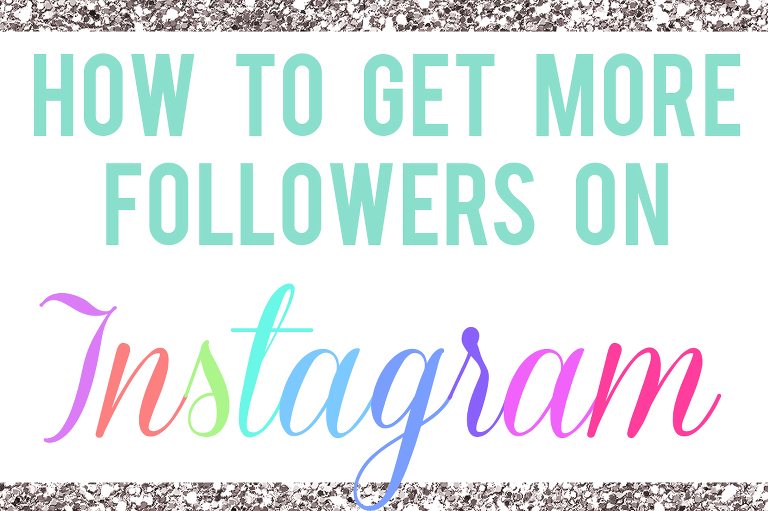 While I'm not an Instagram expert, I went ahead and contacted some accounts that are currently killing it with their IG "know how."
This video contains some awesome tips and tricks on how to grow your Instagram following for your business.
[jwplayer mediaid="5255″]
To watch the video in a larger format, click HERE.
Prefer reading the tips/tricks??? Here they are!! :)
————————————————-
1) Define Your Target Market
Ask yourself questions such as:
-Who am I trying to Attract??
-What is the purpose of my Instagram account for my business?
-Who is going to be the most interested in purchasing from my shop? An older demographic? Younger demographic? People interested in wellness? People interested in makeup??
-Once you get an idea of who your target market is, it is going to be much easier for you to know what type of images to post to attract those people.
-If you are just posting images that aren't tailored to your target market, you may have the possibility of attracting a large following, but what's the point if the following isn't interested in purchasing from your shop (hence, translating into sales). 
2) Connection
-Focus on forming a great connection with your audience.
-Take your target market and narrow it down even more. Try to really paint a picture of a specific type of person you are trying to attract.
-What are their hobbies? Do they appreciate humor? What is their style like?
-DON'T TRY TO BE ALL THINGS TO EVERYONE, because if you do that…the likelihood that you will connect with a specific group of people is very low.
-For example, let's say you have a fashion blog. Because there are already countless fashion instagrammers posting about their love for fashion in a way that is very general,  a good idea is to get more specific and think about what you can bring to the table that is a little more unique/different from all the other fashion instagrammers out there. Maybe you are inspired by fashion with a 70s theme to it, so focus on posting images that portray this. This will help your account to be distinguished from all the other fashion accounts out there because it's providing a unique take on fashion.
Don't try to copy someone else. Offer your own viewpoint. It will lead to more originality.
AND REMEMBER, 
you don't have to be well liked by everyone. The goal here is to attract a group of people who really connect with your brand message and repel people who don't.
The problem with worrying about being well liked is that you could easily put yourself at risk of losing your authenticity.
Keep note of the things that are important to you and what you are truly passionate about…and by doing this, you are going to be able to form a much better connection with people who truly identify with you and your brand message!
3) Niche or Flow
-This tip has to do with the way that you present your images.
-A way to garner followers quickly is to pick a niche and REALLY STICK WITH IT. For example, if you are into healthy recipes, picking a specific niche would be to post images of your recipes and anything under the wellness category. By doing this, it's much easier to attract followers who are dedicated to what you are posting because chances are that if someone isn't interested in healthy living, he/she wouldn't bother to follow your account because of the fact that your account is easily identifiable as a health/wellness account.
-However, if you are anything like me…you probably have creative ADD…and there is just no way you are going to be able to stick to just one niche.
-DON'T WORRY! There's another approach known as the "Lifestyle Approach."
-it consists of editing all your images consistently and sticking to 2-4 themes within your images. It is more difficult to garner a following through this approach, however, in my opinion it's the better approach because it allows one to be more creative.
-Keep your topics consistent to create an obvious lifestyle vibe when they arrive to your account. For example, if you are interested in portrait photography, fashion, and home decor,….rotate to your posts to include all these different topics. It also really helps to make sure all your images are edited in the same style to add to that level of consistency.
4) Engage with people who have similar interests!
-Use the TAGS search tool to search for tags related to your business/target market. Then go and be social! Like their photos, leave comments, and engage with people! These people may then go check out your account and follow you because of the fact that you share similar interests!!
5) Delete any images that don't represent your brand 
-And before you post new images, try to ask yourself:
-Why am i posting this? Will it benefit my target market?  Is this a good representation of my brand? Is it going to educate, inspire, entertain, etc?
-Make it relevant and post with purpose.
-If you feel that you want to post a lot of personal images (nightlife images of you with your buddies, tons of baby pictures, etc.)…sometimes it may be a good idea to create a personal IG account that is separate from your business account. This way, you don't have to worry about what you are posting and if it is accurately representing your business brand.
6) Collaborate and Offer Freebies
-Reach out to high traffic instagram accounts in your industry and offer to send them a  free product in exchange for a review/shout out to your account.
-Their followers will then be exposed to your account!
-If you aren't selling any products, a good idea is to collaborate with other instagrammers in your filed  on creative projects! You can then go on to give shout outs to one another.
-Collaboration is one of the fastest ways to get a large following!
7) Call to action
-When you post something inspirational, such as a quote, make sure to ask your followers to tag their friends. This is going to give them that extra push they need to share your account with their followers.
8) Create a series
-If you want to get really serious about the series, sometimes its best to start a whole new account specifically for the series. You can also integrate it into your current account. Some examples are:
-Tip sharing Monday
-Documenting a journey
-Editing all your images in a way that is unique
-A theme with your photography
-This will help add a cohesive vibe with your images and it will also give your followers something to look forward to. People love watching artists develop a project over time and they also  love witnessing growth/change during journeys. 
-This can really help add something different to your account!
10) Tag your images with relevant tags and search for people in your similar field and follow them.
-Instagram is all about being social and forming connections with people who have similar interests to your own. Keep in mind that this does not have to be time consuming. Even setting a small goal of interacting with 5 people in your field per day can make a huge difference over time!
—